[Vidéo] Hat trick for Birth after tight battle at tough Roof of Africa Race
The Roof of Africa
Enduro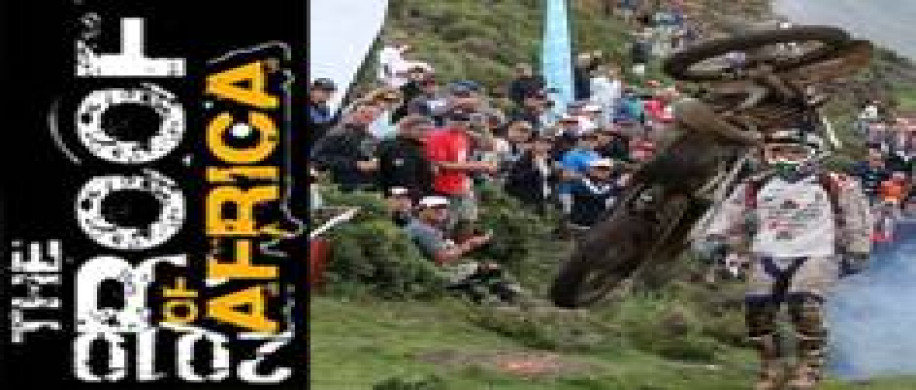 Saturday, 28 November (Lesotho) – New Zealand rider, Chris Birch scored a hat trick when he won the 2010 Baboons Lesotho Sun Roof of Africa after a tight battle with the South African, Jade Gutzeit. The tough event not only tested the endurance of competitors, but their mental fitness too and only 22 riders managed to score gold when they completed the full race distance within the prescribed time over three days.

Birch (Brother Broadlink KTM) and Gutzeit (Full Throttle Yamaha) were locked in a tight battle with only three seconds separating them at the start of the final day. Just after the start Birch misjudged a river crossing and drowned his bike, losing about eight minutes while he made repairs. He rode like a mad man and caught up with Gutzeit. On one of the last mountain passes – Please Push Me Pass – Gutzeit ran out of steam and could not maintain the battle with Birch and although Birch admitted afterwards that he was extremely exhausted, he knew that victory was in sight and that kept him going.
He finished just over 18 minutes ahead of Gutzeit after almost 18 and a half hours of battling with one of the toughest Roof of Africa routes yet. Like last year, the German, Andreas Lettenbichler (Team Husqvarna SA) produced another outstanding performance when he finished third after losing 30 minutes when he got lost on the second day.
The UK privateer, Paul Bolton (Brother Broadlink KTM) finished fourth after his first attempt at the Lesotho event while the South African and Red Bull Romaniacs course setter, Craig Stone (KTM) finished fifth to claim his best position at this event.
One of the star performances of the event was local Ladybrand businessman, Wynand Badenhorst (Leo Internet Yamaha) who competed in his third Baboons Lesotho Sun Roof of Africa event and finished sixth overall after being constantly in the top ten during the race. He finished ahead of three more members of the Brother Broadlink KTM team – former race winner, Darryl Curtis, started the final day in fifth place and finished seventh after the challenging Welcome Pass and Please Push Me Pass also drained him from his last energy on the last day. The Swiss rider, Lionel Seydoux, who has been living in South Africa this year, finished eighth after starting the day from the number four spot on the grid.
Altus de Wet struggled with flu during the race, but still managed to come home in ninth place while the New Zealand youngster, Michael Skinner (Liquorland Alfie Cox Racing KTM) rounded off the top ten. It was the first time that this 23 year-old has competed in the Roof of Africa and after getting used to the type of terrain and long hours in the saddle, an overjoyed Skinner hugged his compatriot, Birch, in celebration at the finish on the top of Bushmans Pass.
After a steady ride, the Finnish works-Husqvarna rider, Simo Kirssi, fell back on the last day to finish 12th, just ahead of local South African, Errol Dalton (Leo Internet Yamaha) who competed in his 22nd Roof of Africa race. Adrian Werner (KTM) was 13th with the 17 year-old Scott Bouverie (Red Criterion Yamaha) who completed his second Roof of Africa attempt and finished 14th overall. Kenneth Gilbert (Yamaha) was 15th after some bad luck that included racing with no front brakes, a broken silencer and suspension as well as some tyre problems.
William "Wild Will" Gillitt (Red Yamaha) was 16th and Brian Capper (Full Throttle Racing KTM) finished 17th after suffering from extreme exhaustion at the bottom of Bushmans Pass with 10 minutes to go to the cut-off time. He was just ahead of the multiple South African trials champions, Bruce (18th) and Brent (19th) Le Riche (Gas Gas) who raced together and completed their first attempt at the event.
Gold accolades for completing the full race distance also went to Dominic Finnis (KTM) who was 20th; Mark Garland (KTM) who finished 21st and James Hodson (Liquorland Alfie Cox Racing KTM) who spent a total of 24 hours in the saddle.
Three international competitors managed to complete the full race distance, but unfortunately arrived after the 18h00 cut-off time on Saturday afternoon – Daniel Schröder and Dean Nuttall (Alfie Cox Racing's KTM) as well as the Mexican racer, Jesus Zavala had to settle for the silver accolade.
Withdrawals on the last day included Marc Torlage (Red Yamaha) who started the last day in third place, but suffered from burst toes and Riaan van Niekerk (Brother Broadlink KTM) who had to withdraw due to medical reasons.
The new organisers, Adventure Lesotho, was praised for putting a well organised event together. The new race format where competitors were allowed to start every race day even if they could not complete the previous day, proved to be a popular characteristic of the 2010 race.
The Baboons Lesotho Sun Roof of Africa is like no other endurance motorbike race in the world and as though and difficult as it is, competitors from all over come back year after year to tackle whatever nature is throwing at them. Dates for the 2011 event will be announced soon.