Off road adventure in Mongolia
The Best Way To Travel Mongolia, Mongolian motorbike tours
multisport
de
2
à
15
personnes
1600 km
à parcourir
à partir de
3375€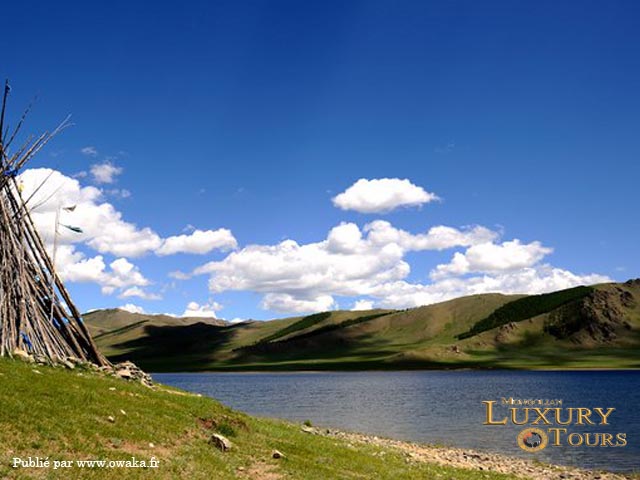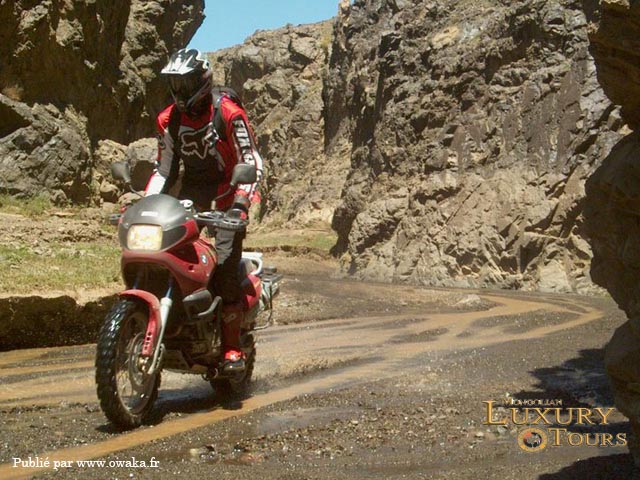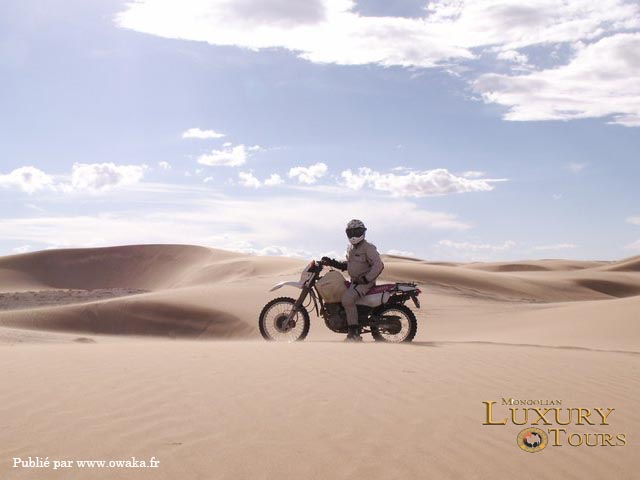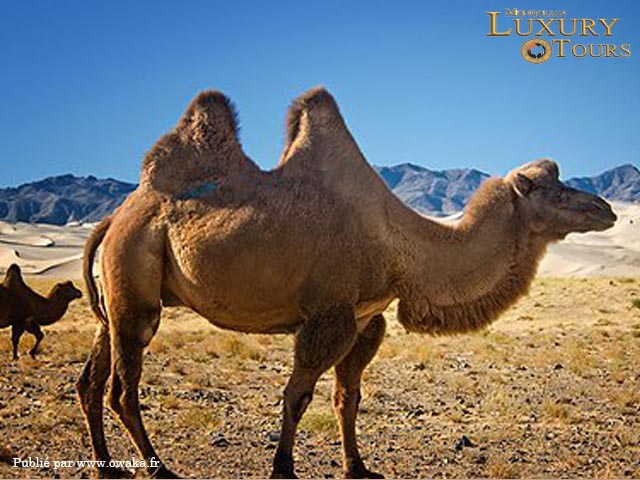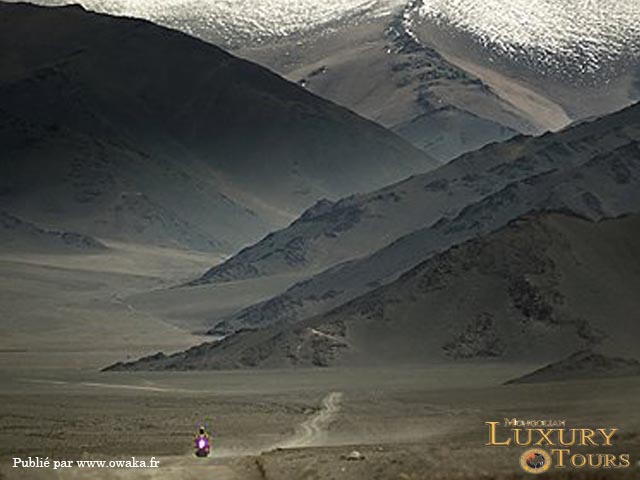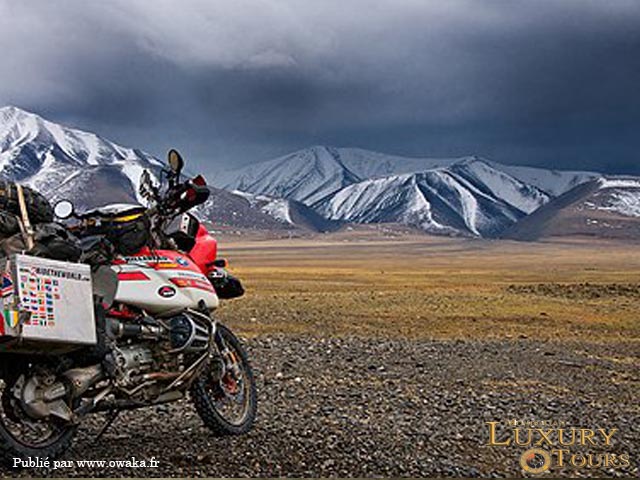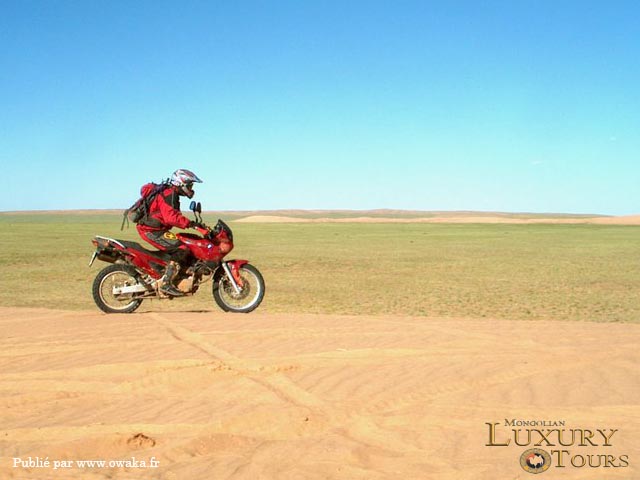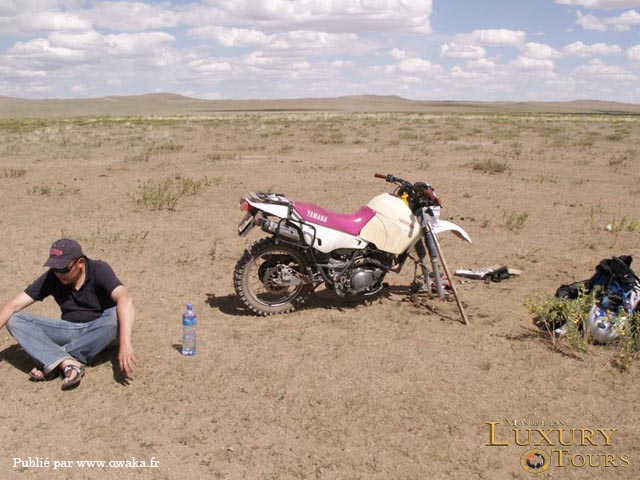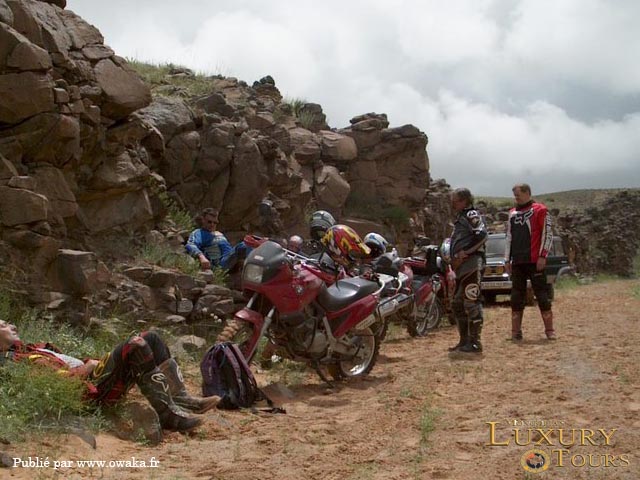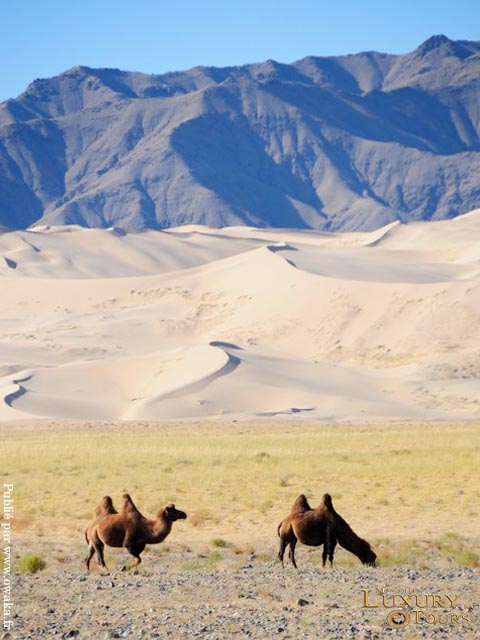 Informations
•Full adventure program- Tour itinerary
•Region: Southern part of Mongolia
•Tour name: Motor bike trip by Gobi desert
•Tour length: 10days, 9 nights
•Available: June 01-October 1
•Highlights: Gobi Desert, flaming cliffs, Khongor Sand dune, Earth stone, Tsagaan suvarga, and visit with nomad families and much more!
•Tour cost:
Person (PAX) Cost
PAX 2-4 ............3675 EURO
PAX 5-10 ...........3375 EURO


Included:
•Motorbike hire and fuel
•Shared accommodation in ger camp
• All meals as listed in itinerary
• All entrance fees
•Sightseeing as per itinerary
•Accommodation in 4 stars hotel in Ulaanbaatar (twin standard room double occupancy)
• Transportations by 4WD vehicles
• English speaking guide (other language guide on request)
•Daily supply of bottled water, motorbike mechanic


Not included:
•International airfare
•Travel insurance
•Beverages
•Optional activity cost
•Excess baggage charge
•Single room supplement
•Any additional things which are not mentioned above

If yes, give further details, period, date, from - From May to End to September

Programme
•Day 1 Ulaanbaatar
Arrive in Ulaanbaatar the capital of Mongolia and transfer to hotel. Afternoon meet crew and allocate motorbikes. You will prepare something for motorbike trip.

•Day 2 Ulaanbaatar to Baga Gazriin Chuluu (Earth stone)
Approximate driving distance 220-230km
After breakfast early morning leave Ulaanbaatar and drive to Middle Gobi is known as Baga Gazriin chuluu (earth stone). You will be reached in the early afternoon, lunch at the camp. There are some interesting granite rock formations, also there eye spa which supposed to be good for sights. There is ruin of ancient small temple, located middle of the rock. Stay overnight in ger at tourist camp. (ger means Mongolian traditional felt accommodation) (B, L, D)

•Day 3 Baga Gazriin Chuluu to Tsagaan Suvarga (white stupa)
Approximate driving distance 180-200km
After breakfast drive to Tsagaan Suvarga. In the afternoon explore to see white stupa and go for hiking around. Tsagaan Suvarga, an amazing series of cliffs, white and pink limestone rock formations taking the appearance of stalagmites up to 30 meters high. It is an excellent site for some out-of-the-ordinary photography. Stay overnight in ger at tourist camp. (B, L, D)

•Day 4 Tsagaan suvarga (white stupa) to Yol valley (Gobi three beauties)
Approximate driving distance 200-210km
Breakfast at the camp and early morning drive to Yol valley which is located 62 km far from the South-Gobi province in the MT Zuun Saikhan. Very wide at the entrance, it narrows gradually into a remarkable gorge. You will have chance to see wild animals and of course see the vulture. Packed lunch on the way continue to drive and transfer to the camp nearby at the Gobi three beauties. Stay overnight in ger at tourist camp. (B, L, D)

•Day 5 Yol valley-Khongor sand dunes (Singing sand dune)
Approximate driving distance 200km
Early morning drive to and visit Gobi three beauties national park. Riding a horse or a camel and trekking to the gorge. Packed lunch on the way and visit nomadic family, continue driving to Khongor sand dune which the length of approximately 180 kilometers and 3-15 kilometers wide. From distance it looks like a fin of huge gold fish. You have chance for camel riding tour is available at the area nearby the sand dunes. The shifting sand blown by the wind or someone makes sound so it is called Singing Sand Dunes. There is beautiful green oasis known as Seruun bulag near the Khongor River. Return to the camp for lunch and enjoy feeling silence and a peaceful in the beautiful surroundings Gobi Deserts. After arriving take a shower and welcome dinner. Stay overnight in ger at tourist camp. (B, L, D)

•Day 6 Khongor sand dunes to Bayanzag (Flaming Cliffs)
Approximate driving distance 160-180km
Drive to Bayanzag which is located 20 kilometers far from Bulgan soum, where 70 million years ago a lot of Paleontological findings have been discovered. The place is known as Flaming Cliffs so named by Roy Chapman Andrews American explorer who had visited Mongolia in 1922. During two years he searched through the Mongolian Gobi Desert and he found dinosaur fossils and dinosaur eggs about 10-15 cm from the Bayanzag for the first time in the world. Visiting and exploring native land of dinosaurs and taking some photos for beautiful surroundings. Dinner and stay overnight in ger at tourist camp. (B, L, D)

•Day 7 Bayanzag to Ongi temple
Approximate driving distance 120-140km
Drive to Ongi temple. The ruins of Ongi Temple are found in Saikhan Ovoo soum of Dundgobi (Middle Gobi) province. It used to be a big Buddhist monastery compound built by Bari Yonzon Khamba at the bank of Ongi River. Transfer to the camp before the lunch. Visit the ruins of temple also there is small ger museum signifies ancient things. Dinner and stay overnight in ger at tourist camp. (B, L, D)

•Day 8 Ongi temple to Erdene dalai soum
Approximate driving distance 200-220km
In the early morning we will drive toward to Erdendalai soum. We will have packaed lunch on the way.

•Day 9 Erdene dalai soum to Ulaanbaatar
Approximate driving distance 200-220km
Drive back to Ulaanbaatar. Transfer to the hotel and lunch at the finest restaurant in Ulaanbaatar. In the afternoon free time do shopping for cashmere shop, souvenir shop and State Department Store. A farewell dinner and stay overnight in hotel.

•Day 10 Departure
Transfer to the "Chinggis Khan" International Airport or Ulaanbaatar Train Station for departure.

Dates
Aucune date n'est prévue.
Actualités
Aucune caractéristique renseignée
Demande de renseignements
Caractéristiques

Pension

Herbegement

Essence

Location