The Latest from the Safari Office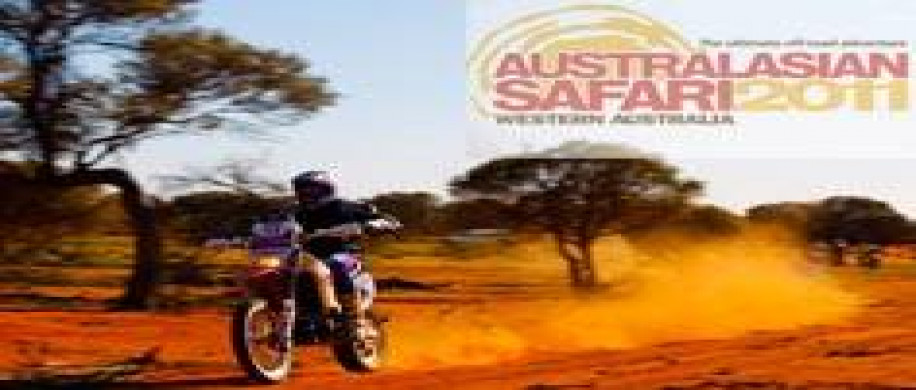 Here is the latest from the Safari Office…..

Its been a busy month in our new office. All of the systems are in place and working well. The Road Crews have been out and about and the course is looking great for 2011. Venues and towns are all once again being very supportive of the 2011 event.

Please don't forget that Early Bird Expressions Of Interest Close this FRIDAY the 15th April - Also please don't forget that places on the Adventure Tour are limited so reserve your place as soon as possible.

Some of the Safari Crew will be at the QFR this weekend. This is the opening round of the ARC but more interestingly it is also the second time that the Moto Competitors have been a part of this great event. The event is based 3 hours South of Perth in and around the Busselton, Nannup area. Make sure you come and say G'day.



Smith Brothers on Honda

For the Australasian Safari 2011, Todd Smith will be along side his brother Jake at GHR Honda. Team Manager Glenn Hoffman says that it makes sense to have the brothers together on one team. "Logistics are a lot more easier and plus it is less confusing for their Dad when he tells them what shirt to wear in the morning!", he said, tongue in cheek. Hoffman is already looking ahead to Dakar. "We havn't decided exactly what we'll do for the next Dakar but we need to be planning for it now. We know what we are doing for the Safari and that just rolls out, but we're looking a fuel tanks and scrolls and things like that to see if we can improve". Both have entered the Condo 750 on Honda and have been testing in advance of that event.

In 2010 Todd Smith finished second outright in the MOTO category on KTM, nursing a shoulder injury for most of the event.

Two other brothers who have entered are 2010 Moto winner Ben Grabham (KTM) and the 2007 & 2008 Moto winner Damien Grabham (Husaberg). Other riders who will be fighting it out for honours will be the man from Longreach, Rod Faggotter on Yamaha, David Schwarz (Husaberg) and Matt Fish (KTM).

International entries who are new to the Safari are Glen Grundy and Jaco Du Toit from South Africa. We welcome both Glen and Jaco to the Safari in 2011.




Coming up this weekend - Quit Forest Rally

The Quit Forest Rally takes place from 15 to 17th April, with the start taking place in Busselton on Friday night and the service park and HQ set up in the picturesque inland town of Nannup. Both towns are located in the south west of Western Australian.

It will be the second year that there is a MOTO & QUAD category included in the rally and this year the entries include three Husaberg riders – Damien Grabham, Mick Heuchan and Garry Connell.

The MOTO/QUAD riders will run a parade lap in Busselton on Friday night but will not compete on the tarmac special stages. They start competition on SS3 on Saturday, undertaking approximately 200km of competitive distance over 16 Special Stages and two Legs.

Clerk of Course, Ross Tapper is enthusiastic about having the MOTOs & QUADs included. 'As long as they want to compete, we'll include the bikes & quads. They basically run under the same rally regulations, with simplified vehicle categories based on the capacity of the engine. Rally of Queensland are looking at running a similar category'.

The moto riders run under MA regulations, and start behind the classic, rally and junior auto categories. For more information see www.rallywa.com.au


Yilgarn Rallye

The Yilgarn Rally, a two day off road event for motos and quads and will take place from 24 to 26 June at west goldfields town of Southern Cross. The event first took place in 2009, had a hiatus year in 2010 and is back for 2011. The emphasis is on getting people involved and giving them a chance to test themselves and their machines in endurance racing.

It is ideal preparation for the Australasian Safari. Scrolls are used for navigation, and it is run in similar terrain and the stage lengths vary from approximately 50km up to 240km. When setting the rallye route, provision is made for riders' skill from the first time novice off-roader to expert levels , but riders' machines will need to be of reasonable condition and reliability to complete the rallye.

"Riders clearly see the Yilgarn as good preparation for the Safari", says Garry Connell the Event Director. "We've got six of the top riders in Australia here in June – Damien & Ben Grabham, Rod Faggotter, Matt Fish & David Schwarz are all coming. The route goes in a clover leaf formation around Southern Cross, and the stages are reflective of the Goldfields region that the Safari uses. It will give them a chance to test their bike set up".

The rallye is a sanctioned Motorcycling Australia event that is hosted by the Southern Cross Motorcycle Club. The Yilgarn Rallye management team comprises many past Australasian Safari competitors and organizing officials and is committed to bringing a high quality, enjoyable and successful 2 day navigation rallye event to Western Australia.





Our Latest Media Release

Last days for Safari 2011 earlybird entries – get your motors running!

Earlybird entries into Australia's most extreme offroad motorsport event, The Australasian Safari, close on Friday 15 April.

A number of big-name Australian and international competitors in auto, moto and quad categories have already signed up to take on the remote Western Australian goldfields and desert from 22 to 30 September 2011.

These include present and past V8 Supercar drivers Craig Lowndes and Paul Weel; multi award winning moto champion Ben Grabham, past winner and Dakar competitor Jacob Smith with brother Todd; and for the first time in Australia, US pure bred moto competitor Alexander Smith.

They will join an elite group of people who have the strength and mental stamina to take on the seven grueling days of endurance driving and riding, navigating a course they have never before driven, following maps through a mostly offroad course over thousands of kilometres, often at speed and on a timed run. For most, the goal is just to make it through to the end.

The event is under new management in 2011 with long-time event director Justin Hunt taking on the exciting new challenge of his own event management business. Octogon Australia has now passed the baton onto Justin, who is based in WA. The transition from Octagon Australia to Justin Hunt Management Pty Ltd has been very smooth and supported by all parties concerned.

Justin said his move back to Western Australia and running the event from his own business was testament to his commitment to the long-term future of the event. "Motorsport has been a lifelong passion for me and I'm determined to build on the success of the Safari to date.

"It's a unique event and competitors and officials have become like family over the years. I plan to steadily improve on the great work already done on creating challenging courses, obtaining a strong international TV presence, and importantly ensuring safety and emergency management is best practice. "The transition has been really positive and I would like to acknowledge Octagon Australia and Tourism Western Australia for making this possible," Justin said.

The Western Australia Government, Eventscorp Executive Director David Van Ooran said the Australasian Safari provided a platform to showcase extraordinary images of parts of Western Australia so remote they are often not caught on camera.

"Thanks to the event, we are able to capture the adventure and excitement of the West Australian outback with vision that is broadcast around the world, in what we like to call the Australian version of the Dakar Rally," Mr Van Ooran said.

'Early bird entries' is the first stage of the entry process where competitors who submit an Expression of Interest qualify for a discounted entry fee. The final date for close of entries is Friday 12 August. Details on the course are being finalised and will be announced closer to the event.

For more information on the event and to find out how to enter, visit

www.australasiansafari.com.au



Dakar Competitor Information Nights


Chris Evans, a 14 x Dakar veteran, Manager of Cyril Depres's KTM Redbull team and ASO representative (for the UK and Australia), will be holding workshops in Sydney and Perth this May - designed to help those who are planning to tackle the Dakar.




These are vital tips that will allow you to hit the ground running and maximize your potential in the Dakar

Eligibility for entry
Calculating the financial cost
Logistics
Support options
The rulebook
Surviving the bivouac
Navigation - the black art
And heaps more..
The Workshop is free but numbers are limited - booking is essential.
There is a $15 contribution for refreshments at the door.



Bookings: Jenny Davidson
+61 402 319 160
jen@battersea.com.au

Technical: Chris Evans
chris.evans@sports-adventure.com
---