Grabham to start Safari finale with 18 minutes to spare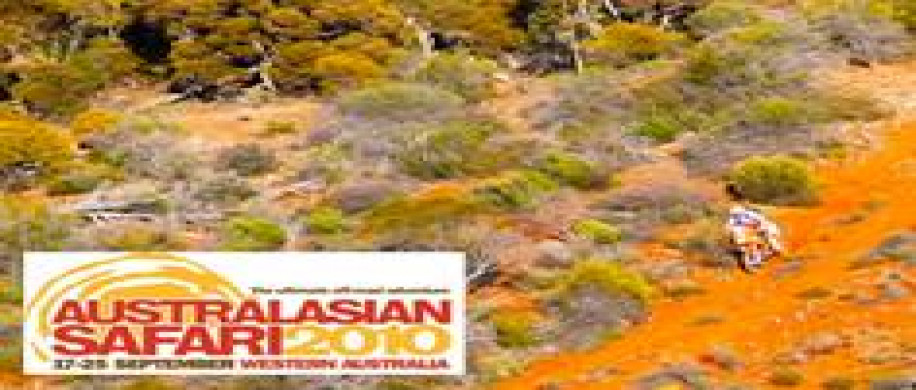 If he can navigate his way through the final Leg of the Australasian Safari tomorrow, Bathurst moto rider Ben Grabham will be set for a first place finish.

At the end of the 325 competitive kilometres of today's two stages, Grabham was more than 18 minutes ahead of his closest rival Todd Smith. Both riders and third fastest rider Matt Fish are all riding for the CPW Safari /SP Tools/KTM Racing Team, which is aiming for a trifecta.

General consensus amongst the top of the field of riders was that the course today was quite different to what they have experienced on previous legs of the event. Riding across salt lakes, along fencelines and through sandier terrain made the stages faster.

Grabham said map reading was now the key to unlocking his third Australasian Safari win.

"I preferred the trails we used in today's Leg and had a solid day," Grabham said.

"I don't worry about the ground I'm riding on, it's really just the map reading I'm worrying about now."

Todd Smith said he had a bad night's sleep last night and was feeling a bit flat today. He was five minutes behind Grabham in the first stage of the day, but moved back to second place by the end of the second.

"I purposely took it a bit easy today to make sure I didn't make any mistakes," Smith said.

Rod Faggotter started the first stage, despite having a broken finger from yesterday's racing, but did not make it through the day. This moves Victorian Matthew Fish in to a likely third placing.

"When I heard that Rod was out after the first stage I took it easier. The best I can hope for is a third placing tomorrow so now I'm just going to get to the finish so the boys will be getting our bikes ready overnight to prepare for the sandy conditions," Fish said.

Dakar rider David Schwarz, on a Husaberg FES70, is no stranger to sand dunes and currently in the fourth fastest position, said his strategy tomorrow was to ride as he has been all week and wait for the others to make mistakes.

"The bike's holding up well and it's all about watching the track. I'll keep riding the same way and will hopefully stay in the top field of riders."

Brazilian rider Ze Helio had another strong day finishing fourth in the stages today, and is placed 11 overall.

Paul Smith continues to lead the charge in the quads, increasing his lead to approximately three hours 45 minutes.

It's the eve of Safari 2010's final Leg, which promises to provide a thrilling finish through the coastal sand dunes of Esperance to the southern ocean, the location of what are arguably some of Australia's most stunning beaches.

An official podium finish will be held on the foreshore of the town of Esperance, with every competitor still in the race celebrating the fact they have managed to finish this gruelling event.

Considered one of the world's great endurance events, the Australasian Safari has travelled from Southern Cross in the wheatbelt through to the historic Western Australian goldfields, desert, rugged bush and coastal sand dunes.

Results referred to in this release are provisional. Full results from Leg 6 are available from [www.rallyresults.com.au/safari2010|www.rallyresults.com.au/safari2010]

Follow the event action at [www.australasiansafari.com.au|www.australasiansafari.com.au]
---