Australasian Safari: Ben set to grab Safari success with both hands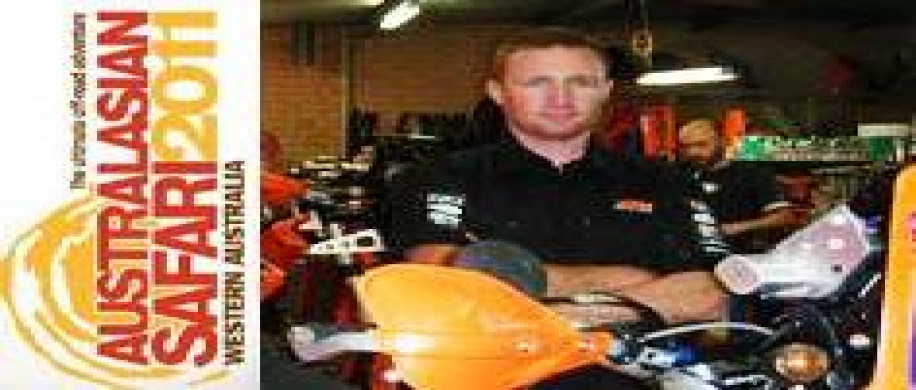 Three-time Australasian Safari winner and off-road moto champion Ben Grabham is back in the action for the 2011 Australasian Safari, which takes off from Perth next week.

He has only been back on the track for a month after breaking his hand in the Finke Desert Race in June, which he then went on to win for the third time. Now Ben is looking forward to conquering the 4000km Safari course of open, mainly off-road tracks.

"This year's lead up has been a bit different. The races I've been in since I broke my hand have been on super-tight courses so I'm looking forward to Safari's style of racing."

It's going to be a fascinating seven days of racing with a host of international talent competing including three-time winner of Dakar - Frenchman Cyril Despres and up and coming talent UK-born Sam Sunderland, along with some of Australia's most talented riders.

"Cyril will definitely be a tough contender – he's a top rally racer as well as having huge experience in other styles of off-road events as well.

"But we won't really know how the international competitors will perform on Safari until a couple of days in.

"I just have to worry about myself and don't get caught up in what the other competitors are doing."

Riding with the KTM team again this year, Ben will be on a different bike, a KTM450, which he will be testing in the days leading up to the event.

On Thursday 22 September, along with the other competitors, Ben will be at Hillarys Boat Harbour for the ceremonial start of the Safari from 4pm onwards. He will also be at the Geraldton Safari Show on Friday 23 September held at the Geraldton Foreshore from 4.30pm, and at the finish line in Kalgoorlie on Friday 20 September at the Kalgoorlie Golf Course.

More information is available on the website at www.australasiansafari.com.au.

Communiqué Australasian Safari
---
---