This month in your Outback Adventure Treks newsletter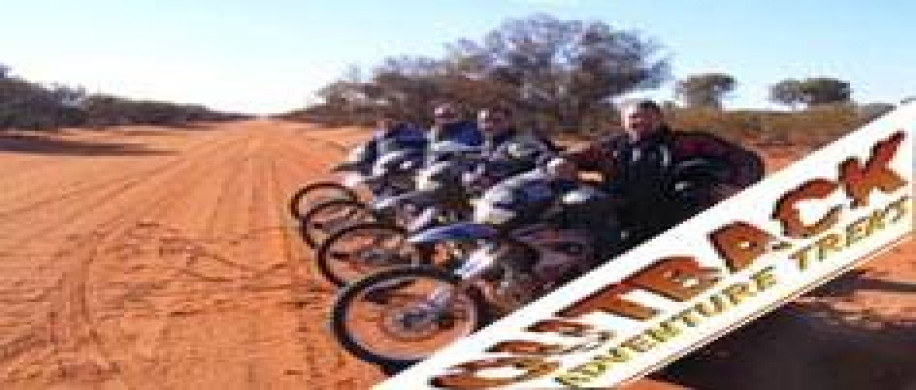 What a Year it has been :
The last tour for the year finished in November and as I sit here a look back through the year I cant believe that we have managed to fit so much into the last 9 months of touring.
We did Cape York, Simpson Desert, Great Divide Ride, Canning Stock Route, Oodnadatta Track, Binns Track, Gunbarrel Highway, Great Central Road, Gibb River Road, Flinders, Birdsville Track and a heap of other incredible tracks. We even managed to fit in Finke and the Australasian Safari. In fact we had 2 trucks and took 12 bikes to Safari.

We had the wettest tour season on record without a single rain free tour. We did a double crossing of the Simpson. East on the French Line, then a few beers in the Birdsville Pub before turning west and crossing the Simpson again.

We had a bunch of riders back for their 3rd year in a row. We will have to think up a new tour in case the come back again in 2011.

We even had one rider do 2 tours in the same year. We had our first female rider do a Coast to Coast 16 day tour. Gutsy effort on her little CRF230.

We managed to get the new truck bogged to the eyeballs on an abandoned section of the original Oodnadatta Track. That was a memorable unbogging. Thanks to the SA Police force.

We had riders from every corner of the globe. It was fantastic to show them this great country.

Stats for the year:

Approx 100,000 km for the year for me (includes driving across Aust. on the bitumen 4 times.
Approx 320,000 km Total for the bikes
9800 sand dunes
120 visits to pubs
130 cartons of beer
2 eskies (wore them out)
1900 eggs
230 nights in a swag
over 200 camp fires
150 hrs of video
10000 photos
4 Truck Shockies
6 Bike Shockies
1 Truck radiator
60 Bike flat tyres. The record was 8 in 1 day.
10 New Truck tyres
80 New Bike tyres
40 bottles of Rum
2 Helicopter evacuations
10 broken bones (at least)
Countless laughs and memories...
So that's it for 2010. Like I said, WHAT A YEAR...

[list]
[*]The New Truck

Our new truck was a real hit. It performed better than we had ever expected. It's an awesome sight to see it climb over those Simpson dunes. The truck did 70,000km in 8 months and it was nearly all off road.
We have room for 5 passengers in air conditioned comfort.



The truck carries 400 litres of water, 240 litres of fuel and 300 litres of diesel as well as all our food for 7 days and all the camping gear and spares. The new kitchen is a pleasure to cook in and the meals are even better than before.

[*]Face Book Updates

During the last trip of the year we hooked onto Face Book and uploaded photos and short videos of the trip during the tour. It was a great way for families and friends to stay in touch.


[*] Outback Adventure Treks
What's New in 2011:

After a 4 year relationship with the mighty BMW we are switching to Suzuki. We found we needed a lighter bike and the DRZ400 won out. We will be starting the 2011 season with the new bikes. We also have a few Yamaha TTR250's for those that prefer a smaller bike.

We have added 2 more Cape York tours due to the demand.

The truck is getting a backup freezer installed and a new Sat Phone.

[*]Trip Reports
OAT Promo Video
We have started adding videos to You Tube. Check out our latest one on the front page of our website or click HERE to go to the video.


Trip Report Blog
We will continue posting trip blogs on Facebook. Now that we have Telstra Next-G service in Birdsville we will be able to update the trip reports on a regular basis.
Trip Reports
[*]A trip report from one of our customers.
'My Outback Adventure Trek'
"Mid April 2009, my friend Roger asked me if I was interested in a trip to Mexico or the Australian Trek described above. I explained that I thought the turmoil in Mexico at the current time would make Australia a much more favorable vacation. A few days later, Roger let me know he had signed up for the Outback Adventure Treks and said I should join him. My wife reminded me..."
My Outback Adventure Trek
Website Updates
2011 AND 2012 Tour Dates
Our 2011 & 2012 tour dates have been updated on the site.
Tour Calendar
Gift Voucher
What do you buy for the person that has everything? Check out our website for our new Electronic Gift Vouchers. You choose the amount and they choose the tour.
Send someone a Gift Voucher today.
Trip Photos
To see what our tours are all about we have hundreds of trip photos at Facebook on the web.
More Photos
[*)Australasian Safari Adventure Tour and Race
We had 8 bikes on the Australasian Safari Adventure Tour. It's on again in 2011.
Join the Adventure Tour and be part of the exciting Australasian Safari. The Adventure Tour follows the endurance based Safari through the rough and rugged terrain of Western Australia's unspoilt outback.
Australasian Safari Adventure Tour Web Site
We will be providing transport and logistics again in 2011. We have a bike transporter heading over from the East coast and we will have a race transport and logistics package available.
Australasian Safari Transport Packages
[*]Contact Us Us
PO Box 460
Cannonvale QLD 4802
AUSTRALIA
Ph: 0408 800 159
Fx: 07 4946 7099
info@outbackadventuretreks.com.au
International Phone: +61 408 800 159
International Fax: +61 7 4946 7099
Skype: outbackadventuretreks
[/list]
---
---